Restaurants.
Catalonia has the most fabulous seasonal produce and culinary history. It is so satisfying to wander through a market, to buy your fresh produce then to take to Casa Nova Girona masia kitchen and to create delicious meals for your friends and family.  But on the days that you prefer not to, or feel the need for a change of scene, to experience the excellent cuisine in our local and further afield restaurants is a true delight.
We have many local restaurants, all within easy driving distance of the masia. Girona has a wide variety of restaurants, bars and cafes to suit all tastes, hunger and price. These include traditional Catalan, Spanish, Basque Tapas, Italien, Japanese and Vegetarian - it is a delight to sit al fresco, under awnings in Girona's Placa Indepedencia !
Food is available all day in Girona and larger towns - "entrepans or bocadillos", sandwiches, pastries etc.  Traditional "menu diari", the three course set price lunch is generally between the hours of 13.00 to 15.00/16.00. Close to us the "menu diari" price varies from 9 to 14 euros for three courses with wine and water. The price can depend on restaurant, location and quality.  In general the "menu diari" is usually offered Monday to Friday, lunch only. A la carte for dinner.
Dinner generally starts from 20.00/21.00.  If you wish to eat earlier we suggest driving into Girona where opening times are more flexible.
Sunday is a day for a long, lazy lunch. Many restaurants are open from 13.00 to 16.00/17.00 and tend not to be open for dinner as Sunday lunch is long and lazy !
We have full restaurant information for you at the masia, for your arrival.  Below are some of our restaurants, both local and further afield.
LOCAL -
www.canvallsrestaurant.com  Sant Marti Sapresa. CanValls             www.restaurantcangeneral.com  Aiguaviva.   CanGeneral
Closed Tuesday. "Del Dia" menu Mon to Fri lunch, 15 euros.           "Del dia" menu, Mon to Fri lunch. Mon to Sun lunch, a la carte.
A la carte menu Mon to Sun lunch & Thurs, Fri & Sat dinner.           Dinner, a la carte, Friday & Saturday only, June to September.
www.canmerla.cat  Santa Coloma de Farners.   CanMerla             www.miradoraeroport.com
 Rustic covered outside restaurant.                                             Mirador by Girona Airport. Mirador
Good simple food from bbq.                                                       "Del dia" menu Mon to Fri. A la carte Mon to Sun. Child play area.
www.restaurantcanxiquet.com  Campllong. CanXiquet                               www.restaurantvillamas.com  S'Agaro.
Closed Wednesday and Sunday night. A la carte menu only.
FURTHER AFIELD - 
Delicious ! The fabulous beach and restaurants at Tamariu, Costa Brava.
The Fun of Tapas !  Txalaka, Girona.
Additional Restaurants -
Can Barris, Campllong. A la carte. Renowned for their snails. Closed Friday and Sunday evening. CanBarris
Casa Marieta, Girona. A la carte. Reputedly Girona's oldest restaurant. Placa Independencia.  CasaMarieta
El Celler de Can Roca.  The Roca brother's fabulous restaurant. www.cellercanroca.com CanRoca
Rocambolesc Ice Cream, Girona.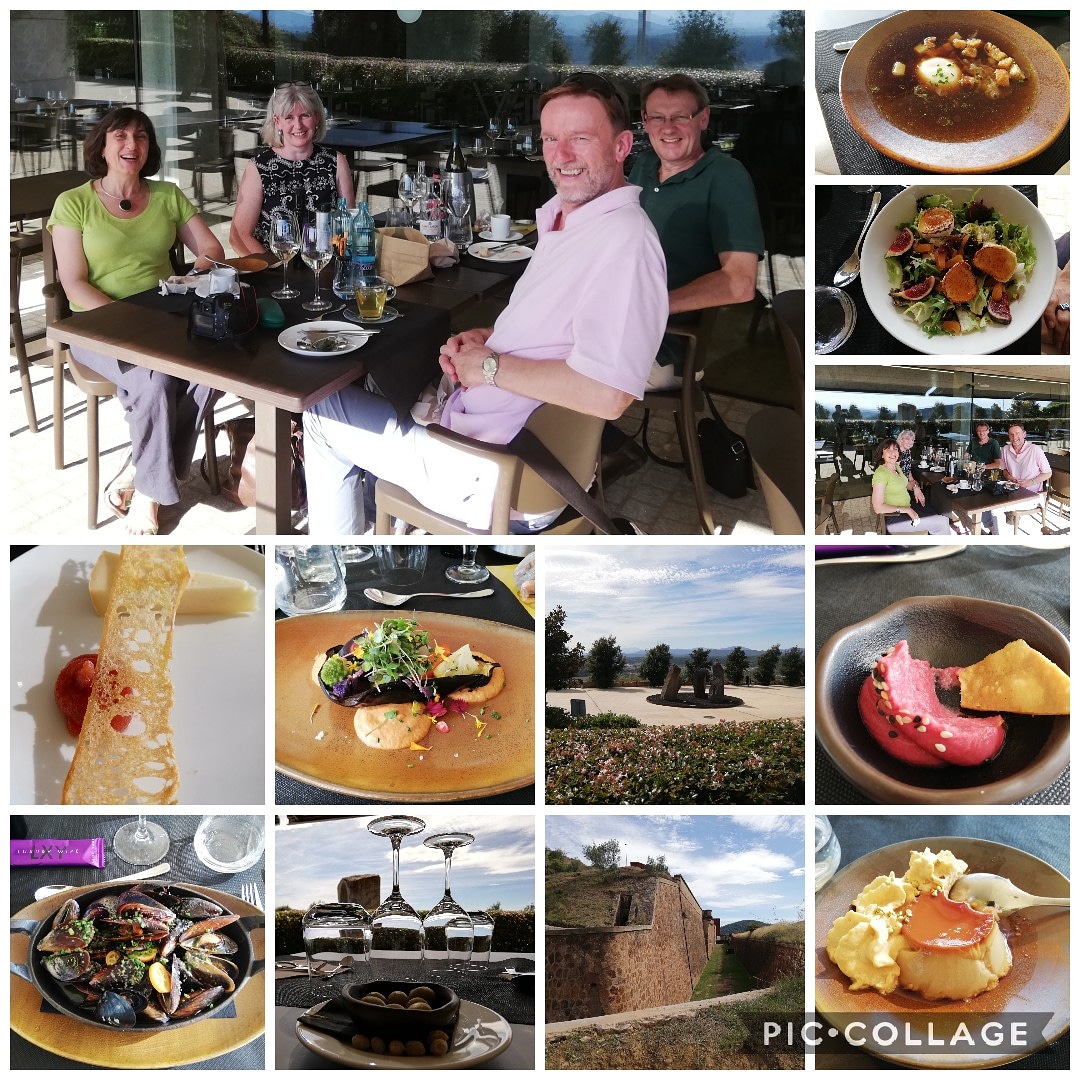 DOR Museum Restaurant, La Fortalesa above sant Julia de Ramis. Closed Monday. Tuesday to Thursday 20 euros p/p menu diari. Weekend 30 euros p/p menu diari.  www.dormuseum.com